LATEST NEWS, inside the BPS
Condition Update: Teen Injured in Pembroke Collision Recovering
Tue, 2017-05-02

At last check earlier this afternoon (Tuesday, May 2nd) the 19 year old St. George's man injured when the motorcycle he was a pillion passenger on collided with a car around 12:45pm Monday, May 1st along Cavendish Road in Pembroke was recovering in stable condition on a general ward.
Inquiries continue and any witnesses that have not already come forward are asked to contact the main police telephone number 295-0011.
Two Men Injured in Two Vehicle Cavendish Road Collision
Mon, 2017-05-01

Around 12:45pm on Monday, May 1st police and first responders were dispatched to a reported two vehicle collision on Cavendish Road in Pembroke.
It appears that a motorcyclist with a pillion passenger was traveling along Cavendish Road and a car was being driven out of Grosvenor Court when the vehicles collided.
Traffic Advisory: May 1st March in City of Hamilton
Fri, 2017-04-28

The motoring public is advised that a march by the Bermuda Trade Union Congress (BTUC) is scheduled to take place Monday, May 1st at Victoria Park starting from 12 noon.
The route of the march is as follows:
Departing Victoria Park – left on Washington Street, right on Victoria Street, left on Wesley Street, left on Church Street, right on Court Street, right on Front Street, right on Bermudiana Road, right on Church Street, left on Cedar Avenue – returning to Victoria Park.
2016 Annual Crime Report
Fri, 2017-04-28

Commissioner of Police Mr. Michael A. DeSilva - The release of the 2016 crime report was delayed by technical issues with the new MEMEX crime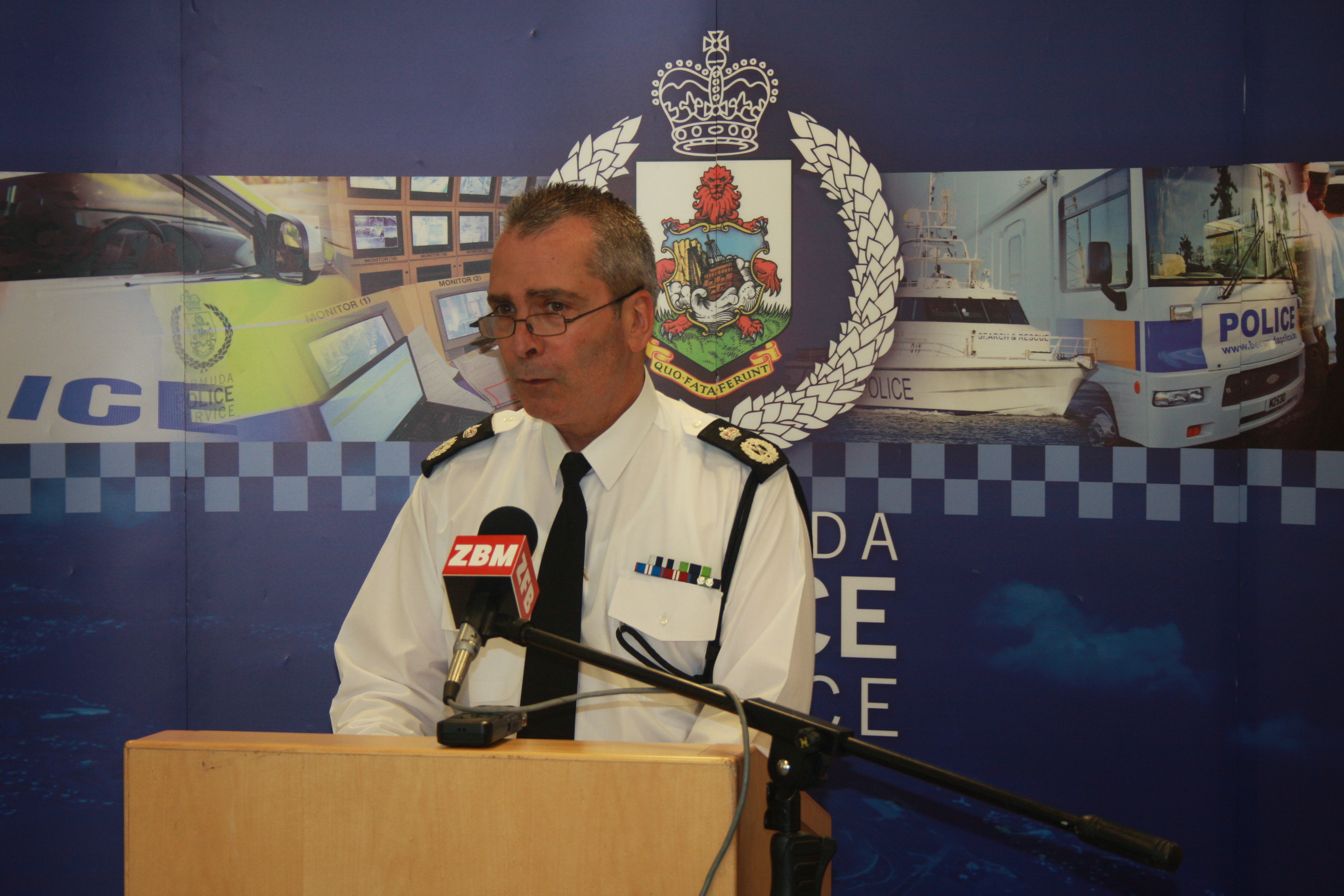 recording system. The exercise of migrating data from one system to another was a lengthy one, and we took care to ensure that the numbers in this report are completely accurate.
Having said that, I can now report that total crime for 2016 fell by 164 crimes or about 4%. 2016 is the 3rd lowest year for total crime since 2000, behind 2013 (3,480) and 2014 (3,394).
Bermuda has recorded less than 1,000 crimes per quarter for 18 continuous quarters. That is a positive indicator that the general trend of total crime continues to be in a slight downward direction.
Policing Plans for May Court Appearances
Fri, 2017-04-28

The next court appearances for defendants in relation to the protests at the House of Assembly on 2nd December 2016, will take place 1st May and 3rd May 2017.
Both sessions will take place at the Dame Lois Browne Evans building.
The Bermuda Police Service (BPS) is aware that appeals are being made for the public to show support for the defendants and therefore, plans are in place to cater to large numbers of people attending on the days mentioned.
Shaundae Jones Murder Investigation Remains Open
Thu, 2017-04-27

Thursday, April 27th 2017 marks the 14th anniversary of Shaundae Jones' murder.
Mr. Jones, a 20 year old Warwick Parish resident, was shot and killed outside Club Malabar in the early morning hours of 27th April 2003.
The Serious Crime Department investigation into this cold blooded murder remains open and detectives are still seeking the person(s) involved.
Update: 2016 Front Street Fire
Wed, 2017-04-26

The Bermuda Police Service has received a report from the Bermuda Fire & Rescue Service regarding the July 21st 2016 building fire on Front Street and is now conducting inquiries to determine if any criminal offences may have been committed.
Anyone with any information should contact Acting Detective Chief Inspector Dave Greenidge at the Criminal Investigations Department on 247-1744 or the independent and confidential Crime Stoppers hotline 800-8477.


BPS PHOTOS


BPS TWEETS


bps facebook

security advice for women

Reduce the risk of
becoming a victim of crime with
these simple tips.
Read More >>

robbery prevention

Take steps to reduce the
opportunities for criminals to steal.
Read More >>